All women of all ages,
leading with love,
together

.

Trinity is a place to grow and connect with faithful women. The Women of Trinity Church (WOTC) are building and sustaining opportunities for ministry both at church and in the local community.

The Women of Trinity Church need your light and leadership. There are multiple opportunities to share your time, talent and unique gifts while serving with the WOTC.

Rummage: Gather to price and sort donated items, weekly on Tuesdays. Serve during setup or during biannual sales. Serve regularly, or just when you can!

Bake Sales: Prepare food items, setup for or work bi-annual bake sales.

Helping Hands: Cook and/or deliver a meal to a parishioner in need. Send a note, share a prayer, run an errand. Helping Hands reaches out with love to our church family during their most vulnerable times.

Trinity Treasures Books and Gifts: Serve in-store as cashier, check-in merchandise, create window displays, or organize inventory. Assist with behind the scenes needs such as marketing and promotions. No retail experience is necessary.

WOTC Special Events: Be a co-hostess and share your support through planning, cooking, or lending your home as a venue. Events vary year to year, but always includes the annual WOTC Tea, traditionally held in May.

Historian/Archives: Help to build a chronological history of the WOTC, including identifying all past WOTC presidents, and assist with document preservation and organization.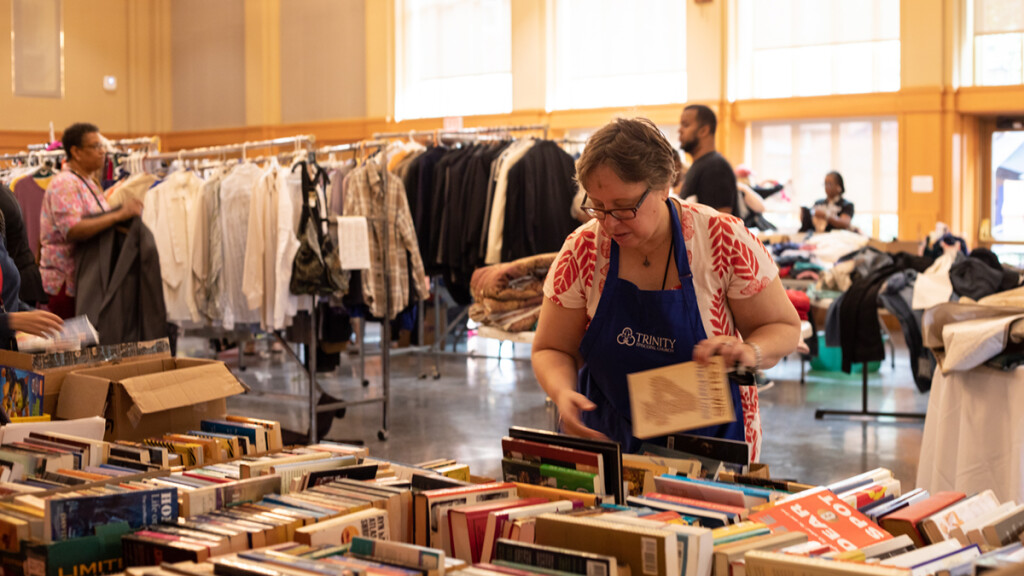 Many hands are needed to setup, staff the sale, and feed volunteers.
Let's get together. Gather with friends old and new at one of WOTC's many social events. At the Annual Tea, held each year in May, the WOTC highlights a "Volunteer of the Year" and "Lifetime Achievement Award" to deserving honorees.
The WOTC awarded $45,000 in grants in 2019. Funds raised through Trinity Treasures Books and Gifts, Rummage Sales and Bake Sales support the WOTC's mission throughout the year and fund grants to ministries and organizations, both internal to Trinity and in the community.
Trinity ministries awarded grant funds include:
Godly Play

Trinity Loaves and Fishes (TLF)

Trinity Educational Enrichment Program (TEEP)

Trinity Artist Series

Bach Around the Clock

Trinity's 20s and 30s

Youth Missions

Kairos Prison Ministry
In the local community, grants were awarded to:
Eden House

Hope House

Jericho Road

Make Music NOLA

National Alliance on Mental Illness