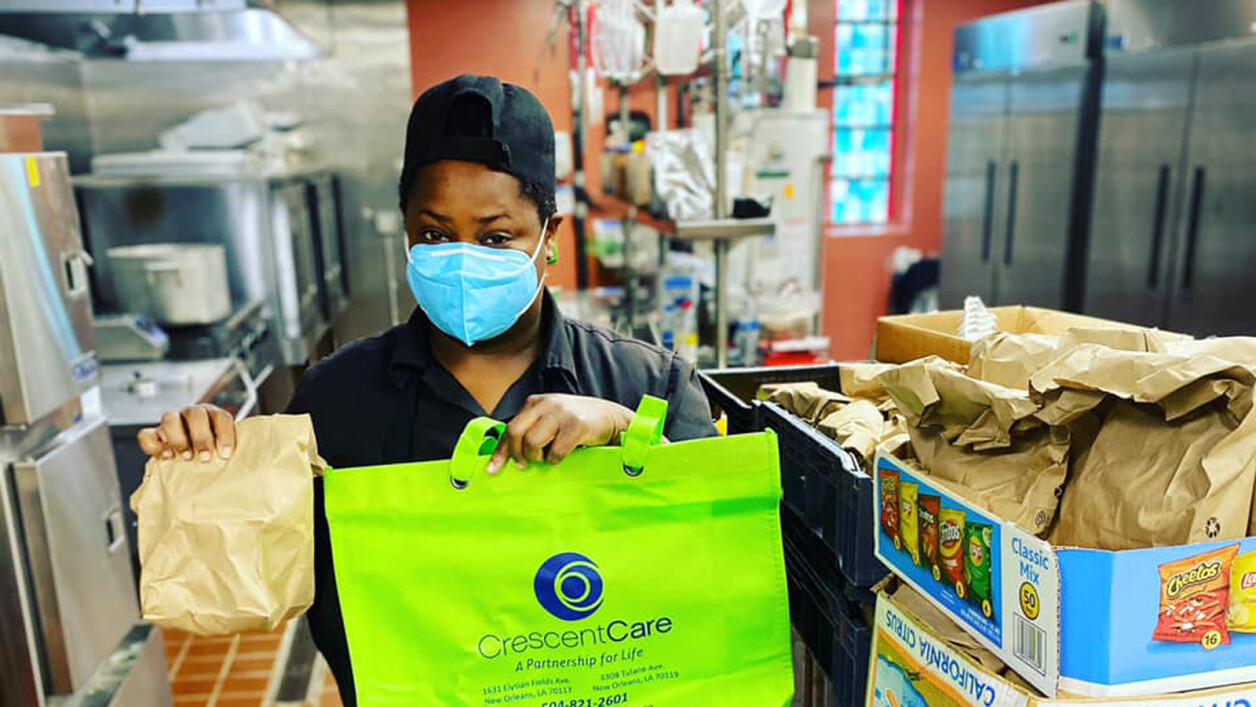 ---
Trinity Loaves and Fishes had a successful year in 2020, and the COVID-19 pandemic offered unique opportunities to serve the New Orleans community. Below, TLF shares a summary of the year.
---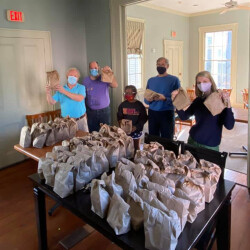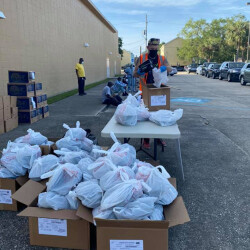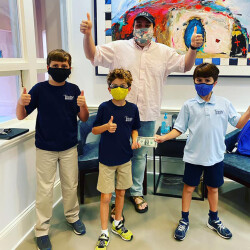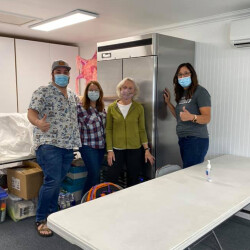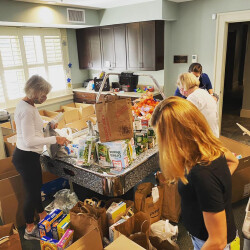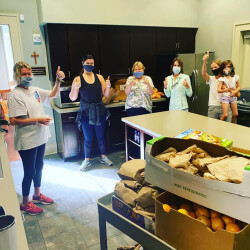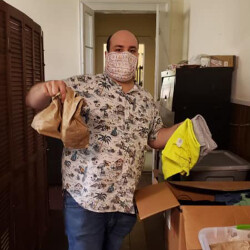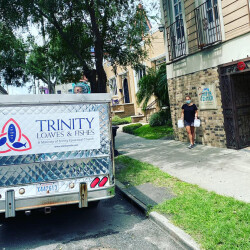 ---
TLF Pre-COVID-19
From January-March, TLF served between 900 and 1,100 bagged lunches each week to thirteen community partnership sites. The program saw a massive increase in public interest with an average of 50 volunteers weekly from public and private schools, mental health programs, neighborhood families, and new and existing parishioners of Trinity Episcopal Church. Towards the end of 2019, TLF added two new community partners and planned to focus on childhood hunger for the summer. The TLF Advisory Board started to organize a strategic planning process to understand how TLF could use its endowment in the upcoming years. Unfortunately, many of these items would be put on hold because new critical programming was needed to help serve the city during the COVID-19 pandemic.
---
TLF Service During COVID-19
During the first part of the pandemic, TLF served, on average, 400 to 500 meals a week to our partnership sites that were still open. Serving also increased to the unhoused communities in the French Quarter and Central City. This fall, the number of meals served weekly continued to increase, and by year's end, we will have served close to 35,000 lunches using protocols to protect volunteers and food recipients from COVID-19.
Volunteers have continued to prepare lunches on campus five days a week. During the early part of the pandemic, volunteers were mostly young adults who could not work but still wanted to give back during these trying times. As scary as things have been for our community, volunteers and staff have made some beautiful memories and new friendships while preparing lunches. TLF has been blessed with financial and food donations made by parishioners and community members. TLF truly is a team effort, and these past months reflect the dedication everyone has to this ministry.
In the fall, TLF moved its preparation space out of Bishop Polk Hall and into Molly's House because Trinity School needed to use Bishop Polk Hall for students. Molly's House is a large facility on campus where youth groups meet and out-of-town church and school groups stay. However, group trips and youth group events were canceled because of COVID-19, which allowed TLF to work in the space. The facility has a large kitchen/dining area and many bathrooms for TLF volunteers to socially distance and remain safe. Although our volunteer numbers are still small for safety concerns, this new food prep area has allowed the program to increase daily volunteer support.
As of late October, TLF increased output of meals to 600 to 700 weekly. Several of our community partners reopened in the fall, and some increased the number of meals needed. Twice a week, volunteers also distributed 50 meals directly to those living on the streets in Central City and the French Quarter. New Orleans has seen a drastic uptick of those living on the streets and in need of food. The increasing trend is noticeable with how quickly volunteers serve the meals.
As TLF moves into our spring 2021 programming, the ministry will continue to provide lunches to community partner sites and citizens in need across the city. Although a few places remain closed, we hope to resume serving all of our original sites by summer 2021. With our steady volunteer force, the ministry will continue making meals throughout the week while practicing social distancing.
---
New 2020 Partnerships & Programming
As the pandemic started to take a toll on New Orleans, it was apparent that we could add to our lunch service by partnering with other organizations. The ministry reached out to other new and existing organizations to create partnerships to provide the most vulnerable with food.
Culture Aid NOLA
The first COVID-19 partnership was with Culture Aid Nola (CAN), a relatively new non-profit that has now served more than 100,000 meals since the pandemic began! At each CAN site, distribution lines are set-up, cars line-up, and volunteers place groceries in the vehicles. At each distribution site, vehicles stretch more than a mile, which demonstrates the need for meals. In the initial stages of forming CAN, TLF agreed to make a small donation for supplies and coordinate volunteer shifts. Later, volunteers used the TLF truck to take hundreds of meals to New Orleans East every Saturday during the summer. Many Trinity parishioners continue to volunteer each weekend at CAN's distribution sites.
New Orleans' Musician's Clinic
In September, TLF expanded a Trinity Episcopal Church partnership with the New Orleans Musician's Clinic (NOMC) by helping with the Meals for Musicians program. This fantastic initiative provides groceries and lunches to musicians who are at high-risk for contracting COVID-19. Each Wednesday, with the TLF truck and community volunteers' help using their vehicles, more than 70 musicians receive these groceries. By the end of the year, more than 1,000 of these bags will have been delivered. We are excited to deepen our decades-long relationship with NOMC because many of the musicians served have performed at Trinity over the years.
---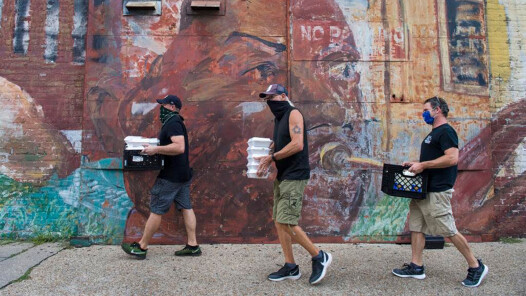 ---
Jesus Project Ministries
TLF has had a longstanding relationship with Jesus Project Ministries, a non-profit that provides after-school academic support, enriching activities, and a summer camp for children in the Hollygrove neighborhood. We provided lunches and snacks throughout the year to JPM. In the fall, TLF purchased a restaurant-sized refrigerator for JPM's facility. This refrigerator will help JPM establish a larger food pantry for those in need, and Trinity will help stock the fridge in the coming months.
In mid-November, TLF organized a Thanksgiving dinner supply drive for JPM. TLF received non-perishable food donations from Trinity School students and Trinity Church members the week before Thanksgiving. Donated items were organized into 50 large dinner boxes over two days by volunteers who then transported the boxes to JPM headquarters. TLF additionally donated $1,000 to purchase turkeys and other perishable items for the boxes. The Saturday before Thanksgiving, those boxes were given to 50 families. We hope that this will become an annual tradition for TLF, Trinity Church, and Trinity School.
---
2020 Fundraising & Endowment
TLF has received numerous grants and donations this year from city government, charitable foundations, companies, individuals and parishioners, including donations from unexpected sources due to the pandemic. In this challenging year, it took a combination of grants, donations and the use of TLF's endowment funds to maintain a full level of service to support our community.
---
2021 Strategic Plan & Endowment
TLF has rebooted the strategic planning process that will study how the program can best assist the community using the endowment. The first step will be comprehensive interviews and data collection from community partners and non-profits in the area. In 2021, meetings will take place with church committees to map out TLF's plans for expansion. Please be on the lookout for updates.
---
Conclusion
This has been a challenging yet rewarding year for TLF, and there is still more work to be done moving into 2021! Throughout each week, volunteer opportunities include preparing lunches, Culture Aid NOLA distributions, and the New Orleans Musician's Clinic grocery deliveries. Our ministry is fortunate to provide our church with so many fantastic opportunities to support our neighbors in need. The need is now bigger than ever, and we would love to have your help. We will share volunteer sign-up links in the upcoming weeks, but if you want to start volunteering now, please contact the TLF Director, Aaron Taylor, at ataylor@trinitynola.com or call at (504) 301-7432.