What is membership?
A member of Trinity is someone who participates actively in the life of this community, who supports the mission of the church through worship, formation and service and who sustains our mission financially. To become a member of Trinity, or to find out more information please reach out to us. We are happy to answer any questions, and offer guidance about baptism, confirmation, reception, membership transfer, and making a financial gift to support our mission.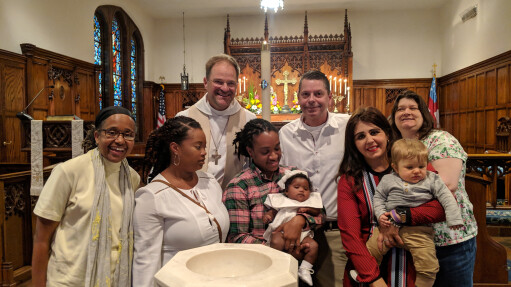 The Episcopal Church experiences the fullness of God's grace through the Sacraments. The Book of Common Prayer describes Holy Baptism as "full initiation by water and the Holy Spirit into Christ's body, the Church. The bond which God establishes at Baptism is indissoluble" (p. 298).
Enduring, imperishable, and eternal, one's baptism cannot be tarnished or repeated. As adoption into the body of Christ and the church, baptism received as an infant or as an adult is a commitment to new and abundant life in Christ. At baptism, the person being baptized vows to accept Jesus Christ as Savior, to trust in his grace and love, and to follow him as Lord (BCP, pp. 302-303).
Infant and Child Baptism
Infants and young children are baptized in front of the congregation as parents, sponsors, and godparents make vows to raise the child in the Christian faith and show by their example their own commitment to being disciples.
To have your child baptized at Trinity, one parent should be an active parishioner participating in worship, service, formation, and stewardship at Trinity. It is recommended that the family meet with a member of Trinity's clergy in the months preceding the baptism to prepare as a family.
Adult Baptism
Baptismal candidates should take time to pray and consider their faith journey in preparation for their baptism. Trinity's clergy are available to provide discernment and support.Adults and children, who have not been baptized previously and can speak for themselves, do so at their baptism. Candidates are encouraged to have a sponsor (who has already been baptized) present at their baptism, ready to support them along their faith journey and within the body of the Church.
As disciples, adults are active in all of the transformational areas of life at Trinity; in worship, service, formation, and stewardship, at the ready to live into the mission of the church.
Godparents / Sponsors
The responsibility of godparents and sponsors is to vow and support, by word and by example, the baptismal candidate as they grow and mature in the Christian faith. Godparents should be prepared to share their faith and guidance and to pray for and with the child. Sponsors of adult baptismal candidates carry the same responsibilities, sharing prayer and support for living into one's baptismal promises.
2023-2024 Baptism Dates and Registration
Please contact Ashley Bond, Director of Formation, at to inquire about scheduling a baptism.
2023-2024 Baptism Dates
September 24, 2023

November 5, 2023

January 7, 2024

April 7, 2024

May 19, 2024

July 14, 2024
Baptism Workshop (Prerequisite)
This workshop is for expectant parents, new parents, godparents, grandparents, and any others in a family's orbit supporting the spiritual life of the child, as well as youth and adults curious about baptism. Godparents are encouraged to attend, if possible. Otherwise, a Zoom meeting with clergy, parents, and godparents will be arranged at a convenient time.
This workshop includes community building, storytelling, discussion, and sharing a meal together. Childcare is provided. Older siblings are welcome to participate in the workshop. Please register. Contact Ashley Bond at .
Baptism Workshop Dates include:
September 16, 2023 (10:00am - 12:00pm) (FULL)
October 21, 2023 (10:00 am-12:00 pm)
December 9, 2023 (10:00 am-12:00 pm)
January 27, 2024 (10:00 am-12:00 pm)
March 9, 2024 (10:00 am-12:00 pm)
April 27, 2024 (10:00 am-12:00 pm)
June 22, 2024 (10:00 am-12:00 pm)
Confirmation is the sacramental rite in which the candidates "express a mature commitment to Christ, and receive strength from the Holy Spirit through prayer and the laying on of hands by a bishop" (BCP, p. 860). At Confirmation, a person is recognized as having ownership of the promises made by their parents, Godparents, and the church at their baptism. That person is expected to live out their Baptismal Covenant with their spiritual gifts and resources.
Each year, confirmands gather in advance of the bishop's visit to attend classes together and to prepare for this milestone in their faith journey. These classes discuss the foundation of Scripture, what it means to be a Disciple of Jesus, incorporating Prayer and spiritual practices in our daily lives, the history and theology of the Sacraments, and "the Episcopal Branch of the Jesus Movement" as Presiding Bishop Michael Curry calls it.
Youth Confirmation (High School)
If you are in high school (grades 9-12) and are ready to make a mature affirmation of your faith, please email Ashley Bond, Director of Formation. A Youth Confirmation Parent Meeting is scheduled for Sunday, October 1, 2023, at 9:15 am, in Bishops Hall for those interested in learning more about the curriculum.
The 2024 Confirmation Sunday date has not been set by the Bishop's date for the 2024 2023 date for Confirmation is Sunday, September 10. To prepare, confirmation candidates should contact to learn more.
If you are ready to take the next step to membership at Trinity Church, please fill out the form below. A member of our clergy will reach out to you to get started.