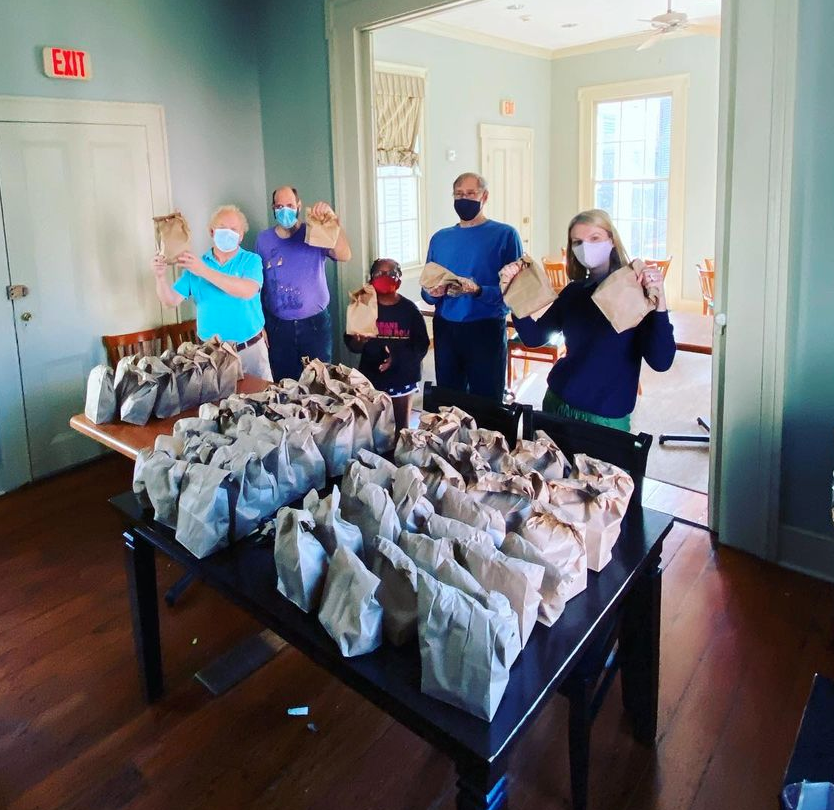 ---
Like the rest of the world, 2020 was a very challenging year for TLF, and yet it has been a very rewarding time. The exciting news is that TLF has come through this time stronger than ever, and as we continue to move into 2021, there is still more work to be done!
---
During 2020, TLF served over 40,000 meals to the community. A large portion of these were TLF bagged lunches that went to unhoused communities, after-school programs, and many other partner sites. In addition, a small amount of groceries went to local musicians and neighborhoods in New Orleans East as we expanded partnerships with other local non-profits. By the end of December, most of our original partner sites reopened, and the number of meals being made continues to increase.
Volunteers clocked over 3,000 hours, the majority being parishioners, students, and many new community members who found us through social media, local news articles, and word of mouth.
A few highlights include being a founding member of Culture Aid NOLA, an excellent program providing thousands of groceries to residents in a well-run drive-through system twice a week. TLF also participated in purchasing and serving meals with New Orleans Musicians Clinic to elderly homebound musicians. TLF expanded our already strong relationship with Jesus Project Ministries, buying a new restaurant-sized refrigerator to start a food pantry. Trinity School and Church prepared fifty Thanksgiving meal boxes for the families Jesus Project Ministries serves in the Hollygrove neighborhood. The Thanksgiving box meals will become an annual project we hope to expand in 2021.
---
2021 and Beyond
New Orleans Baby Dolls 2021 Partnership
We are thrilled to announce the new partnership with the New Orleans Baby Dolls, the oldest all-African American Mardi Gras dance group in the city. Many of their dancers are elderly and cannot leave their homes for groceries due to Covid-19. Other dancers have lost their income as so many businesses have closed during the Pandemic. In 2021 we expect to grow this relationship with Trinity School & Church through donation drives and increasing the number of meals served to the dance groups.
TLF Homeless Initiative
Longtime volunteer and Deacon of the church Ben Nobles is now serving 100 meals a week directly to the homeless in Central City and the French Quarter. The unhoused communities in New Orleans are dramatically rising as more citizens are evicted due to employment loss during the COVID-19 Pandemic. These meals are made possible due to the generous donations to the Covid-19 fund during 2020. We much appreciate your help with this ministry.
TLF President & Board
We first would like to thank our excellent 2020 Chair, Lisa Wurzel, and our board members who have rolled off. We are thrilled to announce Will Smith, a Trinity member, as our new TLF 2021 Chair! We have also added three new board members: David Giddin, Tammy Eskridge, and Danielle Brinson. These new members are weekly volunteers who bring so much to the Advisory Board, such as financial and real estate knowledge, professional fundraising, and bridging the gap between TLF and Trinity School! We are thrilled to have the help during strategic planning this year!
Funding, Strategic Planning & Future of TLF
We are currently applying for small and large grants to local and national foundations. Our program also receives support through private donations from parishioners and community members, and we are most grateful for all the contributions made in 2020 and those we have received in 2021.
The Advisory Board moves into the first phase of strategic planning research, we are currently conducting in-depth surveys of our sites and other NOLA non-profits and ministries that provide general relief and focus on mental health, hunger, and housing. This Spring, we will be sending out more surveys to volunteers, board members, and former board members. Another element of the research will be collecting and analyzing data from the local and regional governments. We hope to have our first face-to-face in-depth strategic planning seasons later this Spring!
TLF currently is operating five days a week on the Trinity Church campus, and the need is now bigger than ever! We would love to have your help as a volunteer, and to prayerfully consider making a direct donation to the program. Please contact the TLF Director Aaron Taylor at Ataylor@trinitynola.com or call at 504-301-7432 if you have any questions!
Please follow us for updates on Instagram @Trinitytruck and our websites https://trinitynola.com/tlf/