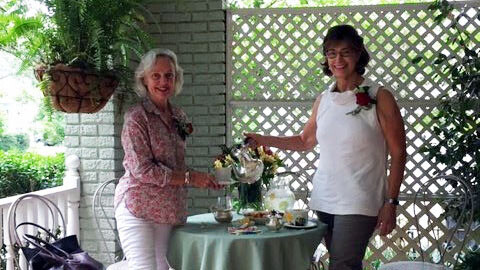 volunteers of the year
The Women of Trinity Church (WOTC) is ecstatic and pleased to announce that Elaine Haney and Cathy Posey have been named the Volunteers of the Year for 2019/2020.
Elaine and Cathy are such loving, generous, and dynamic women; they inspire us all to love and serve by their great presence and example. Below you will find a list of their accomplishments related to their time at Trinity, and why the WOTC is so proud to honor these ladies for Volunteers of the Year!
Elaine Haney
Became a member in 1976 for the Wednesday night family service and was a Sunday school teacher, EYC leader, and church usher
Served as Rummage Chair for ten years
Served as VML (Vincent Memorial Legacy) Chair for four years
Served two terms on the Vestry
Member of Trinity Undoing Racism Network (TURN) founding committee
Served on Community Ministry Committee
Served on the Trinity Counseling and Training Center (TCTC) Board
Volunteers in TEEP classroom
Serves as Trinity Loaves and Fishes volunteer
Appointed by Trinity to service on the Episcopal Community Services Board
Attended the Consortium of Endowed Episcopal Parishes (CEEP) as parish delegate and the Episcopal Diocese of Louisiana Diocesan Convention as delegate
Cathy Posey
Has been a member of Trinity since age 6 years old, taught Sunday school as a teenager and later as a mother of four
Served on Wednesday Night Committee
Serves on the altar guild.
Served two terms on the Vestry
Served as Stewardship Chair twice
Served as Chair of the Trinity Educational Enrichment Program (TEEP) Board
Served on Strategic Planning and Mission Statement Committee
Serves as Chair of the Community Ministries Committee
Serves as church usher
Serves on Trinity Loaves and Fishes Board as liaison to Jesus Project Ministries
Member of Anti-Racism Task Force
Member of Mission Commission
Trinity Loaves and Fishes Volunteer
Please reach out to each of these AMAZING ladies and congratulate them on all they have done and continue to do for Trinity and our community!
Annual May Tea
The Volunteers of the Year are usually recognized and celebrated at the Annual May Tea. This year the Annual Tea was scheduled for Thursday, May 14 at the home of Tony and Katherine Gelderman. As you may have guessed, the event was postponed. Stay tuned for an updated date as the WOTC Event Committee reviews options to reschedule.
In celebration, our Volunteers of the Year held their own event on May 14. Cathy and Elaine had a "social distancing" tea on Elaine's front porch with all the necessary items: Tea, silver, flowers, corsages, cookies, and music from "Coming into God's Presence." How amazing and special!
Additional Announcements
We are pleased to announce the 2020/2021 Executive Board and Committee Chairs.
Executive Board
President: Beverly Lamb
President Elect/Treasurer: Melissa Fanning
Past President: Melissa Dovie
Recording Secretary: Brianne Rome
Corresponding Secretary: Vicki Moran
At Large: Maureen Gilly/ECW
At Large: Carol Spencer/Eden House
At Large: Ninette Eastman
At Large: Peyton Greene
UTO: Eileen Gleason
Committee Chairs
Trinity Treasures: Linda Stone and Melissa Dovie
Rummage: Bruna Mora and Courtney Matthews
Bake Sale: Pat Couret and Jessie Garner
Helping Hands: Pam Cooper and Paige Smith
Special Events: Kelley Levy and Bo Farrell
Grants: Carolyn Fitzpatrick
WOTC Grant Recipients
This year, the WOTC awarded over $35,000 in grants to deserving programs and implemented procedures to ensure that the grants are allocated as intended with their requests.
Trinity Rummage
The Church is still unable to accept rummage donations. When capacity for this ministry resumes, all parishioners will be notified.
Helping Hands
The WOTC extends a huge thank you to all the ladies who have prepared meals and reached out in love to their church family, especially during the last several weeks as many special needs arose for our Trinity parishioners.