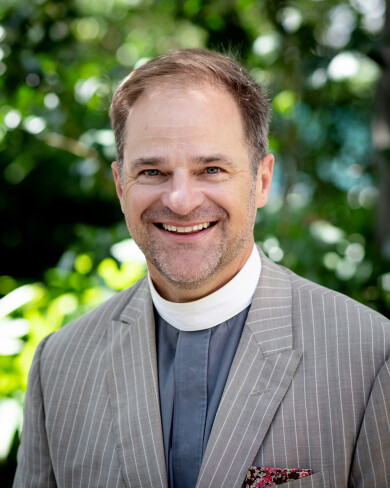 Rector
office: (504) 670-2524
My formative experiences all occur within the Episcopal Church. I was born and raised in Texas and went to Episcopal schools where my mother was either a teacher or principal and my father was the priest or chaplain. I met my wife and married at St. David's Austin where I worked as a youth minister, and even while working professionally in the theater for 10 years managed to lead retreats at Episcopal Camps and Conference centers on the side. It was not a surprise to many when I entered seminary at Sewanee in 2001.
After being ordained I served parishes in both San Antonio and Corpus Christi during which we started our family. In 2009, I was invited to study for a Doctorate at The University of Oxford in England where we lived for 6 years. During that time, I also worked for the Diocese of Oxford at both Christ Church Cathedral and in a small rural parish, St. Kenelm's, in the Cotswolds. Before coming to Trinity Church, Andy served as Rector at Church of the Ascension in Montgomery, Alabama.
We have three kids. Our two eldest, William and Natalie, currently attend St. Paul's School in Concord, Massachusetts, also an Episcopal school. James, our youngest, carpools with me every morning to Trinity to attend Trinity Episcopal School.
I'n my free time I enjoy music, running, tennis, cooking, camping, playing with the family Weimaraners 'Otto' and newly adopted 'Ollie', and restoring and riding my old BMW motorcycle - I am still hunting for an appropriate sidecar.